event details
Fukubukuro

The shops and restaurants of Royal Hawaiian Center are kicking off the New Year with a Fukubukuro promotion on January 1, 2017. The annual event is a Japanese retail tradition and offers shoppers the opportunity to receive massive discounts on "lucky bags" sold for half of their retail value. This year, Royal Hawaiian Center stores and restaurants are participating, including Fighting Eel, Jimmy Choo, kate spade new york, LeSportsac, Salvatore Ferragamo and P.F. Chang's.
Dedicated shoppers can expect to find restaurant gift cards and a mix of accessories, beauty products, handbags, and clothing depending on the specific merchant. There is something for every budget, style, and taste with the Royal Hawaiian Center Fukubukuro promotion.
Kenny Endo's Taiko Center of the Pacific will mark the beginning of the event with a Japanese drum performance at 9:00 a.m. in the Royal Grove. Stores will begin selling Fukubukuro bags at 10:00 a.m. Quantities are limited and based on first come, first serve. *Participating shops & restaurant hours may vary.
Participating Shops & Restaurants
Building A
Calypso St. Barth
Harley Davidson
Island Soap & Candle Works
Silver Lanis
Lani Beach by Mireille
Island Slipper
Island Fashions
Pineapple Princess
Ranger Sports
Royal Hawaiian Boutique
Royal Hawaiian Quilt
PF Chang's Waikiki *Opens at 11am
Building B
Crazy Shirts
Fighting Eel
Furla
Gillia Clothing
kate spade *Opens at 9:30am
LeSportsac
SoHo
Koi Honolulu
Hawaiian Island Arts
Salvatore Ferragamo
Sunglass Hut *Building B only

Building C
Allure Swimwear
Barrio Vintage
Clearlight Jewelry
Love Renaissance
Simply Wood Studios
Honolulu Home Collection
Lole Hawaii
Forever 21
Jimmy Choo
Noi Thai Cuisine *Opens at 11am
Waikiki Trolley

What is Fukubukuro?
In Japanese, Fukubukuro literally translates into "lucky bag". In Japan, on New Year's Day, merchants sell these lucky bags for at least half of what they are actually worth. The catch? The contents of the bags are a complete surprise not to be revealed until they are purchased.
What is the history of Fukubukuro?
The tradition began in a Tokyo department store in the early 20th century, but grew so much in popularity that it has spread across Japan and even across the Pacific Ocean to Hawai'i. Japanese superstition has it that the good fortune in one's Fukubukuro bag reflects the luck they will have in the New Year.
How much are Fukubukuro bags worth?
Depending on the store, Fukubukuro bags range in cost from a few dollars into the hundreds. What is guaranteed, however, is that devoted shoppers will be rewarded with an item that is worth at least double what they paid for it. In years past, Fukubukuro bags have been stuffed with designer purses, gift certificates, and jewelry.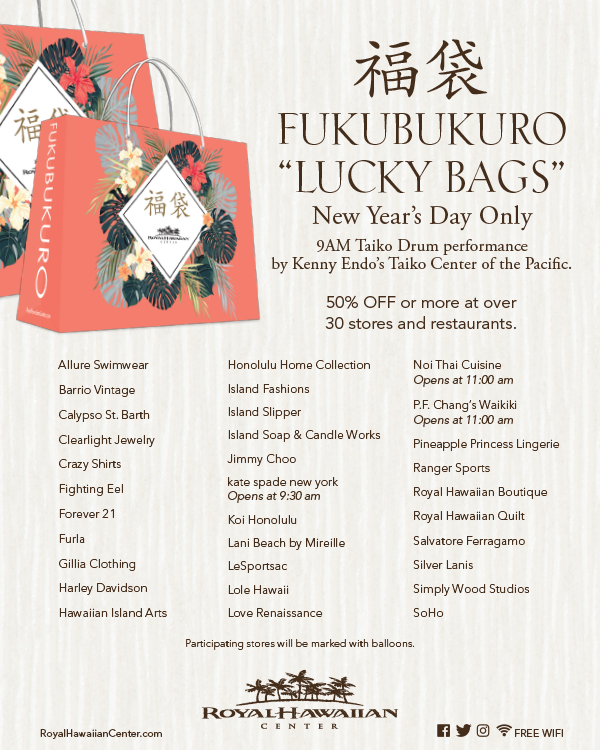 Date

January 1, 2017